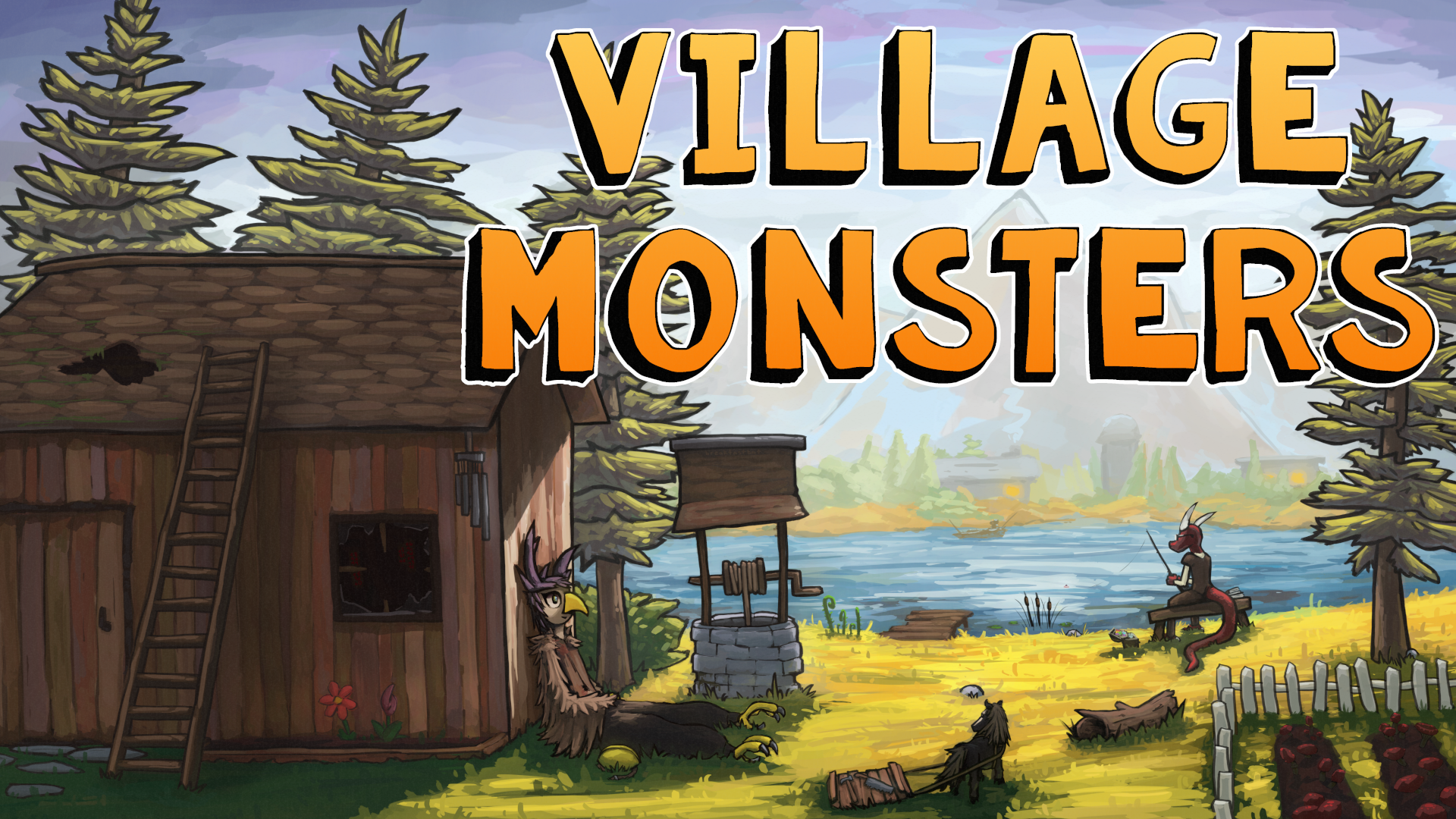 Village Monsters
Release: Village Monsters Beta 3.2 (Pumpkin Pie) is now available!
---
A new feedback release is now available. As with all feedback releases, this one is based on the latest demo and contains fixes and improvements based on your feedback!
Unlike previous releases this one is a great deal bigger and includes new features, some collisions improvements I had intended to include before, and a bunch of other stuff! Several OSHA Violations were also corrected.
Here's the download links + patch notes are below. Wowsers!
New
Collision has been improved in a number of ways

Your player will now attempt to 'nudge' themselves around corners, meaning you'll no longer get 'stuck' on them
The player's default speed has been lowered a smidge to make navigation a bit easier (and to fit with the chill themes better!)
A number of minor adjustments were made to make collisions feel smoother
A mirroring issue with the sprite (and thus its collision box) was fixed

The minor placeholder has been added for mending the world. Check out the bridge in northern Firetree Forest to learn more
A prototype for world states has been added to the game. This allows you to create persistent changes to the world like mending the bridge or unlocking the shortcut to Memorial Meadows
A "Nice Catch!" menu pops up after catching a fish or critter. It displays its name, stats, and allows you to either pocket it or release it
Several more fish have been added to catch
ẉ̷̨̖̥͔͚͔̓a̶͚͍͋́̑͐͗̓͊͐̑̆y̶͓̝͖̰͉͚̅͂̏f̵̙̰̑a̸͉͖̭͉̞̟̽̓r̶̨̛̩̜͍̤̟͔̝͖̍͂̍̎̓e̵̖̫͇͙̭̩͖͌̃ͅr̷̨̹̫̙̗͉̗̤͆̇̇͋̓̎̓͒̀͌ ̸̗̭̼̬̰̭̻̫̓́̔͆̅̄̃̒̕s̷̢̫̮̀̉͌̈̈̊̽͋͒̿ḫ̵̢̫͙̼̭̩̲̭͂̓̔͆̉͊̓͜͝͝ŗ̶̢̼̰͈͚̣̹̞̃̀̒͒́͗̉̋̚͠i̶̤̲̙̫̹͎̋́͐̑̀̊̐̽̐͘͜n̸̛̛̘̳͓̲͒͛͂̃e̴̡̥̤̘̬͝ a̷̧̞͌̀͂̒̋͝n̷͇͋̅̏̓d̷̲̠͙̙̮͍͖̻̞̎̆̓̀́̿̄̄ ̶̧̧̢̝̘͕̬̰̯͎̊͂̑̂̀͒͂̇̕m̶̢̖̣̩̘̥̋̆ȅ̸͕̹̙̦̥̾̆͑͐͒̑͝ͅn̶̝̈́͝d̶̹͓̻̟͉̏̎̀͊̄̕͝͝ĭ̴̙̮͇̤̰̭̊͐̋̏̚n̴͈͖͔̼͉̦̦͉̖̲̈͑͛͊g̵̭͊͂͋͊̕ ̶̧͇̯̖̻̥͕͙͊̍͝s̷̼̖̜͛̂̏̀̓̿̓̕͝͝p̵̨̩̲̯͍͚͖̦̬̼͌̄͌͊̈̌́͝r̷̨̻͈͆̆͐̓̀̆̊̑̚i̵̡̟̝̪̳̍̾̉́̀̆t̶͇̪̩̭̘̯͐̂̾ȩ̶̺̦͚̦̭͊̿̍̀̔̊̎̀s̵̡̼͙̣͉̫̪̬̄̄̿
Improved
A number of tool belt changes have been implemented

Reduced active tools to 1
LB/RB (A/S on Keyboard) now quickly cycles between tools when pressed and opens up the tool menu when held
A little helper is displayed when switching tools

Made notes outside of your room a bit more obvious that they can be read
Helper Text (eg., "Talk", "Interact") no longer disappear while you are facing a relevant object
Slightly brightened the fall tileset
When picking an item from your inventory (like selecting ingredients for cooking or planting spores) invalid items are now grayed out
Fish now have weights and lengths
Fish are now much more active when it's raining
The vision cone at night has been greatly reduced

It will be expanded again in the future
Fixed
Fixed crash when donating to the library
Fixed crash related to low energy and eating
Fixed issue with Overflow exit
A few flowers had wonky layering issues. They've been corrected
Merchant items have been slightly adjusted to prevent strange placements
A number of tree collision boxes have been adjusted

An especially bad collision box (that was actually completely detached from its tree) deserves special call out: The wide dead tree in north firetree forest is no longer a problem

You can no longer clip through Town Hall
The walls in a number of houses have been fixed
Collision for flying critters has been temporarily disabled to prevent strange pathing issues
Fixed dialogue issue with Zero
Fixed dialogue issue with Glimmer
Fixed bad exit door in Mock's home
Stopped the random splishy-splashy sound while idling in fishing
Files
Village Monsters Demo (Beta 3)
31 MB
Jan 14, 2019
[Linux] Village Monsters Demo (Beta 3)
18 MB
Jan 14, 2019
[macOS] Village Monsters Demo (Beta 3)
20 MB
Jan 14, 2019