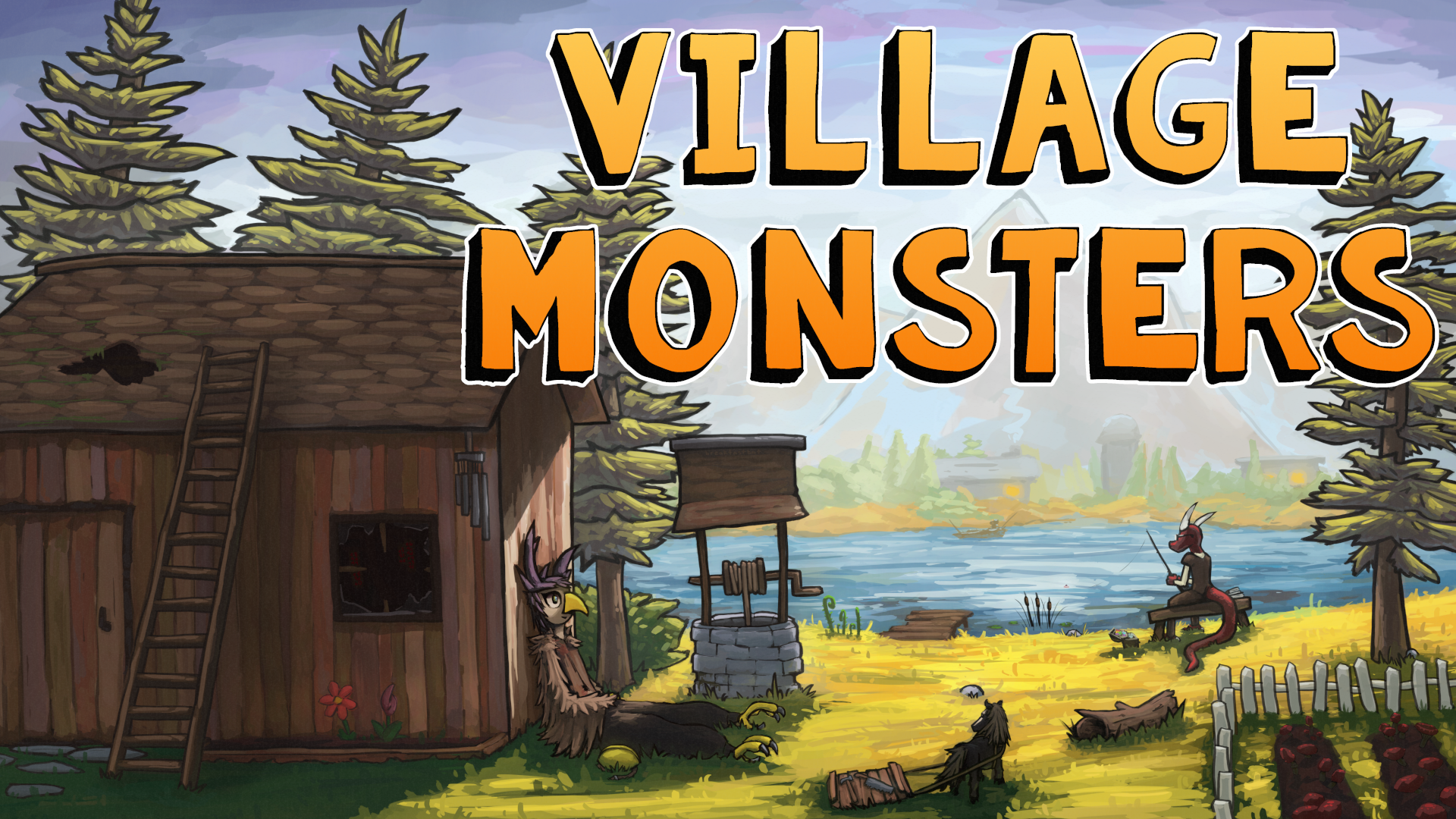 Village Monsters
Release: Village Monsters Beta 3 (Pumpkin Pie) is now available!
---
Hello Villagers!
There's a new demo coming to town. It's nicknamed Pumpkin Pie and it's out today!
It's silly for me to keep saying things like "this is the biggest and most full featured demo yet!" After all, if I'm making forward progress then by definition each demo will be bigger than the one before it.
And yet... this is seriously the biggest and most full featured demo yet. It contains tons of new things and improves loads of existing things, but more than that it's finally representative of the kind of game you can expect next spring.
Here's some of the headlining changes.
New Fishing
The fishing hobby has changed – again – but this time it's final. I promise!
You dash to hook the fish before it escapes. You then mash to reel it in as fast as possible. And when the fish fights back, you clash for victory.
Grab your fishing rod and head to any body of water to test it out.
Mushroom Gardening
A new hobby has been added to the game: Mushroom Gardening.
Mushrooms are grown from spores you can purchase from the general store. Once planted they require very little effort and will happily grow by themselves. Grown mushrooms can be harvested and then sold, eaten, or cooked.
To get started check out the mushroom plots over in the Agrarian Acres. Check out the book "Mad for Mushrooms" in the library for more info.
Cooking
Another new hobby has been added to the game: Cooking.
Of all the hobbies this one is the least finished (you can only cook basic soups for now), but future releases will add to your cookbook.
To get started, visit the kitchen in Overflow and interact with the cooking pot you see there.
House Purchase
You are no longer stuck at the inn! The shack east of town has been put up for sale and the deed can be purchased from the general store.
Keep in mind it's not cheap – even this basic plot of land costs 10,000 Skull Silver. You'll need to find a way to make some money; catching and selling fish and critters is a good place to start.
Effects
A new "effects engine" has been added to the game. You've always been able to quaff potions, but this is an entirely new system with complex interactions and features.
Many items now bestow different effects when used or eaten:
Eat a Snowberry Shroom and you'll become chilled to the bone.
Stay up too long without sleeping and you'll become exhausted and unable to run – though you can eat food to offset these penalties.
Drink a Potion of Fast Feet and you'll zoom around the map.
Check the player page of your journal to see which effects you're under.
Up All Night
Your unfair curfew has finally ended.
Instead of teleporting back to bed in the middle of the night you can stay up indefinitely. To balance things out you now have an energy meter that ticks down throughout the day.
Running out of energy makes you exhausted which has a bunch of negative impacts, so you'll want to keep it up by sleeping or eating food.
You can sleep at any time from a bed you own. Sleeping will also quickly advance time.
Improved Interiors
Many interiors – including villager homes, the village inn, and general store – have been improved. Enjoy new furniture, cozier layouts, and more personality in each building.

macOS Support
This marks the first demo where Windows, Mac, and Linux versions will release simultaneously!

Dialogue Improvements
Dialogue took a backseat with this release, though this is because its systems are largely finalized.
One big change is how villagers talk before and after you become friends. Villagers may at first come across as rude or distant, while others might be overly formal or reserved. On the other hand, you may witness complete personality changes in some villagers as they warm up to you and become close friends.
Note that you won't be able to see these changes in the demo as they happen over the long term.
Quality of Life
As always a host of quality of life changes have been added to the game. Here's a handful of them:
The passage of time has been further slowed to make the game more relaxing
"Helper Text" has been added to even objects in the game

Doors now tell you where they lead
Items for sale now display their name

Many interactable objects now can only be interacted with when facing a specific direction. This prevents a lot of accidental interactions
You can now sell multiple items at once to the merchant
UI Changes
Inventory and System menus have been combined into an improved Journal
Many UI elements have been cleaned up and improved
New & improved fonts
And a whole bunch more
There's way more changes than I can document in this post. More accurately there's more than I want to document. But here's a few more things you can expect:
New weather types and tileset for fall.
Trees and vegetation have been improved.
You can flush a toilet.
Lighting has been tweaked.
Loads of new furniture and decorations have been added to each home.
Bonfires and torches now extinguish in heavy rain.
Pishky bought a new hat.
New secrets.
Files
Village Monsters Demo (Beta 3)
31 MB
Dec 01, 2018
[Linux] Village Monsters Demo (Beta 3)
18 MB
Dec 01, 2018
[macOS] Village Monsters Demo (Beta 3)
20 MB
Dec 01, 2018
Comments
Log in with itch.io to leave a comment.
Uh, somehow there's only the mac version up now.
Huh, haven't seen that happen before. Seems both Windows and Linux were set as hidden. Whoops!
It should be up now, though. Sorry about that